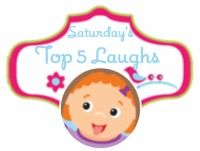 Welcome to another addition of Saturday Top Five Laughs. With last weekend being so crazy, I did not participate and am looking forward to sharing my favorite post!
5. When Logan is thinking about something, he taps his finger on his chin and says "hmmmm"
4. I put Logan in underwear to see how it would go. Just seeing his little tiny bum in "unees" made me giggle!
3. Charlie gets so proud of herself now. She can pull her self up (in her crib, on people, on the couch, the ottoman) and she gets a big grin on her chubby face. I die from the cute. I laugh when she starts to get too excited and jumps up and down....then she falls over!
2. Logan spoon fed Charlie some of his applesauce at dinner. "Yant some asslesauce baby?" He got it everywhere. He nose, her eye, his cup, the floor and a little bit in her mouth.
1. When we were at the orthopedic getting Dom's hand double checked for a fracture, the Dr said it was just bruised but he could miss gym for 2 weeks. Dom's response: "But we are only dancing in gym. I like it and I don't even need my thumb for the moves. So I won't hurt it again if I dance."