So....it is Sunday. I know. BUT I wanted share my laughs. We had a super busy day yesterday and I was way too tired to post when we got home. Yay for great days with family :)
So without further ado.....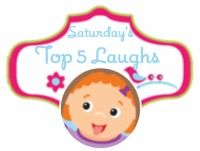 5.Logan has a paper jam guitar that he strums. Sings the song and "wahks out" to!
4. Logan has started to tell us when he wakes up: "It's time to get up!"
3. Charlie has started standing. BUT once she realizes she is, she gets a super scared look on her face and falls over!
2. Dominic got picked to attend the symphony for school. He was picked for being smart, talented and interest in music. When his letter came with his tickets "Ah yeah! I am a winner!"
1. Logan blows raspberries on Charlie's belly and her cheeks. She squeals in delight. And now she tries to do it back!!