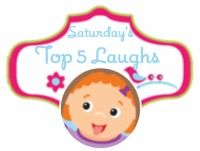 I have not been able to link up in forever! TOO much summer fun ;) We are having a blast and doing as much as we can with these kidlets. Beach, camp, weekly play dates, getting together lots with friends, swimming and the zoo!
5. Charlie saw that her brother was hurt. Bent down and looked right in his face. Smile and said "Ahhh??" Dominic laughed so she got up and ran away. I asked her if Dominic was okay and she responded "Uh ah!"
4. Logan has been quite the butt lately. Terrible two's/three's is hitting him hard. He kept on pinching me so I sat him in time out. I calmly told him that he is being mean and nasty. *pinching me over and over* "How do you like it MOM? I told you no time out. I say no. I no sorry. I go pway!" Um yeah, I kept my cool and laughed about his response later.
3. While we went on a mini vacation to my Aunt's camp, we went to a local animal park. There was a half donkey, half zebra there. It was awesome. And named a ZEDONK! The name is just as funny as the animal is awesome.
2. Again, while at camp, we were taking pictures of the kids. (my cousin and her son were there too). Just check out this photo of how Dom got the boys to look at the camera.
1. Logan has been wanting to run around without a diaper on (occasionally he will go on the potty). He loves to run around, scream he is "neh-kid" and show off. The other day, he came running up and tried to rub himself on me. I admit that I laughed. I mean, really, wouldn't you laugh while trying to tell a 2 year old that his privates are not to be put on other people!
I hope that I can back in the swing of things and keep up with my weekly favorite posts. We still have a few things planned for this summer though. I hope you join in and link up with
Melissa
and add your weekly laughs!