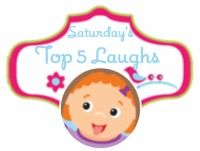 I am linking up with Melissa over at
The Mommyhood Chronicles
again for this weeks belly laughs!
5. Logan and Charlie went into the kitchen and opened the dishwasher. They took out the dirty spoons and started "pway-in dwums" on the counter.
4. Hubs tooted and blamed it on Charlie. Logan looked at Gary and said "Dad that was totally you!"
3. Charlie decided it was a good idea to throw her play spoon in Logan's potty as he was peeing.
2. While driving home from the zoo, Gary kept hearing something. Dom said "Logan is snoring and his a booger in his nose. It is flapping back and forth!"
1. While we were at dinner, I called Logan a rascal. He shouted back at me "I not a asshole!" Oh...you should have seen the elderly couples staring. My face was so red. But not from embarrassment...from attempting to hold back the laughs!