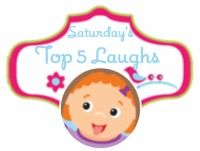 5. Charlie was rubbing her bum and whining. Dom asked her if her butt was itchy. She shook her head yes and backed her bum up to his hand so he would scratch it.
4. And after Dom scratched Charlie's bum for her, Logan decided to take off her diaper and try to itch it. Then he decided to sniff it.
3. All 3 kids were wrestling around. Logan accidentally bounced on Dom's twig and berries. Dom began whining and cried out in pain. So...Logan ran to the freezer and brought out an ice pack. He put it on Dominic's bum.
2. Charlie went to bite Logan. I scolded her and told her no. She looked up at me with her eyes, starting batting her eye lashes and smiled at me. The girl cannot talk but she can distract you with her cute from the bad she is doing. Then when I turned my back, she bit Logan anyway.
1. Every time Logan gets hurt from Charlie (a bite, hit, bump) he asks for a band aid. When she bumped him in the eye "Momma I need a ban aid for my eye ball. It hurt. Charlie hurt me!"