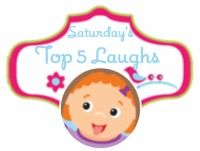 Another week down. The weeks are flying by. It will be Halloween before we know it! Just a fair warning that #1 is probably the best laugh ever. It is all boy. You have been warned ;)
5. Charlie was eating dinner and making grunting noises. I look over and her head is down. I asked her if she was pooping. She looks up, grins and shakes her head Yes. Then grunts some more.
(I love that she understands us and can tell us some things since she is not very vocal yet!)
4. Logan was cleaning up his train stuff. He grabbed a wooden pig, came running over "Ewww. mell my pig. He mells yike poop!"
3. I started singing if you are happy and you know it, Charlie whips herself around and starts clapping and stomping her feet.
2. Logan "my finger hurts, right there." Daddy "what is wrong with it?" Logan "I gots a toe nail!"
1. Logan. Crazy potty mouth loving all boy Logan. Really, there are no words. And here it goes:
*taking off his undies after Daddy says he needs a shower*
"Mom, you want to see our penis?" After saying no and Daddy taking him to the bathroom, I over heard:
"Dad, you wanna have a penis fight? It's a penis party!" *thrusting his hips as to use his twig as a sword*
AND THAT my friends is what I live with. I am not ashamed to say that I laughed. Pretty hard. I mean, COME ON, a penis fight?!