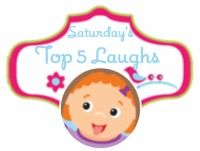 I cannot believe it is the weekend already! These weeks are flying by....

1. Logan is Mr. Repeat. All. The. Time. He most recently has decided to use the following phrases:
*Bubba vroom NOW (him telling Dominic to go to his room now)
*Chahree qwiht it (him telling Charlie to quit it)
*Ah sound. Toot. Muma toot. Daddy toot. Chahree toot. Bubba toot. I toot. Ahuzme. (he blames everyone else before he admits it and says excuse me!)
2. In the last 5 days, Charlotte has learned to sit up, jump in the exersaucer, bounce herself on the floor while trying to crawl, and pull herself up onto you. Logan watches her do these things and gets excited. Chahree shit up. Chahree jumpin good. (yes I did type shit, he says that instead of sit!)
3. Logan fell asleep in his high chair holding his pen. Seriously, the kid sleeps anywhere!
4. Now when Charlie sees her bottle or food, she kicks her feet in excitement. Makes a wrinkled nose face and says ahahahahaha!
5. Logan was playing with Charlie's piggy toes and kissed them. Or I thought so. But nope, he LICKED them! "Twikal twikal. ah dem good. (laughs) ah no. dem tinky."