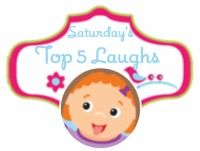 A week in our house is almost always like a day at the zoo! This week was no exception.
5. Logan likes to run around with a blanket hanging from behind him. He chants: "supah iwon mahn!" "whee…." For those non toddler talks, that says Super Iron Man. Because he totally thinks that Superman and Iron man should be combined.

4. Logan was in the entertainment center (the middle we do not have a shelf on because he uses it to climb up the dang thing) and he bumped his head. He always whines "I allyite" and today he run up to Charlie and said "Chahree kiss it." *placing his head on her head*

3. Dominic has been kind of trying lately, to put it nicely. When he is not listening, Logan goes up to him and shakes his finger at him. "Bubba you yisten." It is both funny and adorable.

2. Charlotte is army crawling like a champ. She starts off by flailing around and giggling. Then takes off after what she wants. If she does not get their fast enough for her liking, she starts whining and grunts in anger.

1. Logan and Charlie have been playing together a lot the last 2 weeks. Logan brings out his blocks and starts to build. Charlie will grab the blocks and chew on them. Logan laughs and says "eww yuck. Chahree pit on dem." Then he will bring out the Little People Farm and give her an animal. Then he shakes his animal (whatever one he chooses) in front of her and makes the sound. She giggles in delight and continues to chew on her animal. Then when she is bored with her animal, she drops it and grabs for Logan's. This is so cute and funny and I just cannot stand it!

Have a great weekend!