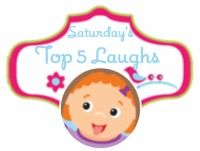 Welcome to another addition of Saturday Top Five Laughs. With last weekend being so crazy, I did not participate and am looking forward to sharing my favorite post!
5. Charlie is pulling up on the furniture now. And crawling like a champ. Logan looks over at her and says "Go Chahree Go. Mama, Chahree tandin." Then Charlie grabbed his coloring page off the ottoman, got herself down and started to chew on it. Logan "No baby. No. Mine. Bad Boy!"
4. Dominic was upset about something. Logan looks at me and starts singing "If eww feelin sad, da firs ting you do do, calm calm down." And then I died from the cute and funniness of him.
3. Charlie is eating real food now. When we go to sit down for dinner. She squeals in delight. If we eat in the living room and she is sitting with us (and not in her high chair) she lunges forward to get at our food. Girlfriend loves her some food. And gets very angry very quickly if you cannot keep it coming at her pace of eating. Yowza!
2. Charlies hair is growing so much. It is lighter and lighter. But the dark parts are still there. They are the long "rat tail" looking ones in the back and front. Poor thing looks like she is straight out of a bad 80's film.
1. Logan has been steeling Charlie's binki a lot lately. We take it off of him and ask him if he is a big boy or a baby. He usually replies "I a baby, I yant a B." And we tell him no, he is a big boy. No more B's for you. Then his response was "I a BIG BABY!" And Gary and I rolled on the floor laughing.
I hope you have a fabulous week. Mine will turn around after yesterday. I start a 10 day vacation today and cannot wait to spend time with my kids. Even if we have 3-4 doctor appointments next week for them.