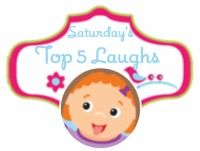 First laughs of 2012! These ones are all about the babies. Dom did not have much funny in him this week. He was way too busy playing with his new goodies!
5. Logan's new thing to do is to put his hands in his jeans pocket and stand there. Sometimes he will bop his head up and down like Joe Cool!
4. Logan likes to share his food with his sister. Sometimes, it is not the appropriate food to share. While we were taking down the tree, Logan and Charlie had their snacks in the high chairs. We look over and Charlie is covered in M&M's and candy canes. Logan thought it was a good idea to share with her. Her face was covered in different colors and it soaked through her bib, shirt, under-shirt and onto her skin. Tie-dye Baby!
3. Logan runs around cupping his hands around his mouth and calling out "Ah juice, hair are you?" Like his cup will magically say, HERE I AM LOGAN! He calls out for toys and food too. When he finds whatever he was looking for, he says "Oh my gosh. I fine it!"
2. My mother in law has been watching the kids since she has been off. Logan stands at the window waiting for her to come in and calls out "Gaga, eww mist me!"
1. Logan was yelling and being cranky. I told him that he was being impolite. He responded "Mama. Be quiet!" Well then later that night, he put his monkey in his red car's chair. "Money. Now calm down and yisten to da point."
And finally a sweet extra cute and funny nugget for you… Charlie was playing with her baby brush. We look up and she WAS BRUSHING HER HAIR!