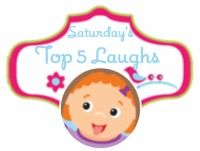 If you have not started to link up with
Melissa at The Mommyhood Chronicles
for Saturday's Top 5 Laughs, then you are really missing out on all the funny!
5. I was spelling a word so that Logan did not understand me. It took me a minute to figure it out, since you know, spell check and all! Dominic looked at me and said "Mom, 10 years of college was not enough. I think you need to go back!"
4. Logan likes to talk to people on the phone. He wanted to talk to his Nana (my Mom) and so I called her and handed over the phone. He chatted with her for a long time. Each time I tried to get the phone back, he would run away "No, no Muma. I talk ah Nana. You go away." I came to find out that he was hanging up on my Mom and calling her back. 5 times. I did not even know he knew how to call someone on my phone.
3. Charlie has started to put her one leg out while she crawls. We call it her crab crawl. She is much slower when she crawls this way than normal crawling but she seems to now prefer it.
2. Pretty sure that I have the ONLY 2 year old boy that asks to go shopping. "Muma, I go Cosco (Costco)." "Muma, I go Tahget." "Muma, I go Gian Eagle."
1. Logan and Charlie played tea party for over an hour. (Logan actually continued to play after Charlie went to bed) It was adorable to watch Logan poor the tea straight from the pot into his mouth. Charlie eat the spoon and cup. Share star puffs together. "I playin tea pahtay wif Char Char." Charlie would squeal in delight.
We are having a LAZY SATURDAY at our house. And I cannot wait to get back to it. PJ's, Movies complete with popcorn, candy, pop and a whole day of nothingness but our couch! Hope you enjoy your day as much as we will ;)