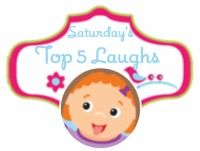 It has been a busy busy 2 weeks. I have so many blog posts to write BUT I need the time to edit pictures and make the posts. This weekend is full of birthday fun for Dominic, so I hope to get them done soonish!
I did not post last Saturday because Dom had his friend party. Here are the best of the last 2 weeks!
5. Dominic turned TEN yesterday. A decade. He was on the phone with our friend and he said "yep, I am 10. I feel OLD!" Ha, kid wait till you're in your thirties, ahem.
4. Charlie started saying "uh oh" about a week and a half ago. She throws her bottle, looks down at it and says "uh oh" and then cries until you give it back to her. It was funny and adorable the first 3 times...now, not so much! ;) She also says "uh oh" when her foot slips while she is walking from furniture pieces!
3. Logan has some puppy stuffed animals. He has taken a real liking to the one his Pappy got him. He was making it kiss him and tickle him. "mwah mwah mwah. (giggling) Ah puppy kissin me. Ticka ticka ticka. (giggling) Ah puppy ticka me."
2. Charlie is a kisser and a lover!
Stef
and Grant were here for dinner and Charlie gave Lily a few big smooches on the top of her head. She has that adorable fuzzy hair and Charlie made it stand up like a Mohawk with her sloppy kiss. Then my best friend was here this week with her son Bradley. Charlie was smooching all over him too. Big kisses for everyone!
1. Dominic was scratching off the silver coating on one of his 3DS gift cards. He came running out of his room with his bottom lip out. Here he had rubbed the code right off. I could not help but laugh a bit! *I am hoping to take it back because the entire paper part came off!*
I hope everyone has a great weekend! I am off to clean and set up for our family party :)