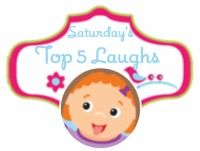 Another week has come and gone. It was not a great week for us since we had a week of sick. Then a few days of catch up. Now we are doing all things to leave for the beach!
5. Logan's new favorite thing to say is "Oh yeah, you right!"
4. When we were at a birthday party, Logan patted the seat next to him and said "hey lady, you sit down aside me."
3. When I type Logan's name, he stands beside me and says "Hey, what did I say? Dats my name, Mom. What I do?"
2. Charlie got her toe nails painted. She keeps looking at them and wiggling them. So cute!
1. Dominic was refusing to get his hair cut. So my sister bribed him with 10 bucks. He gave her a look and said nope. She asked if he would do it for 20, nope. Finally she gave in to 25. Kid knows how to play her! HE learned it from the best...my sister :)
I hope everyone has a fantastic weekend. See you in a week or so :)