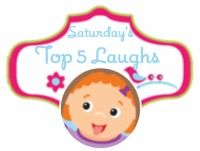 Another week down. Dominic is at camp for the weekend with my Mom and my best friend is in from Illinois for her sons first birthday! It will be a fun weekend for this family.
5. While we were at the ENT, the Dr asked Logan to let him look up his nose. Logan began fussing and squirming. Once the Dr started to actually look how he needed to, Logan shouted "Oooohhh, dats not bad. Not bad at all!"
4. Charlie has been biting the dog. Weirdo.
3. While at our friends for dinner, I looked into the next room to see Charlie hugging and squeezing her BFF Lily's face while going in for a smooch. Those two little ladies are adorable together!
2. Logan was hitting his Dad and saying "Why are you hitting yourself?" Um....I do not think he gets the way that game works. Heh.
1. I heard the water running in the kitchen. I yelled in to Logan to shut it off. He said "I am not playing in the water Momma, I peeing in dah sink!" Oh that kid....