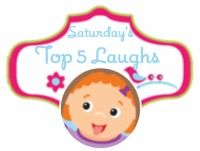 Another week down! Hard to believe Christmas is in 3 days and 2013 is just around the corner.
5. Charlie fell and hit her forehead off of a duplo block. It was scary as I saw her deep indent and and split open wound. After she was cleaned up, given Tylenol and an ice pack..she settled down. She gave the tv stand her nastiest look and said "bad! bad!" (she has no clue that it was not the tv stands fault but a block instead, ha)
4. Libby was licking Charlie's face and ended up licking her ear. "Ewwww! Kucky. Ewww Wibby. Eww." I am guessing from her reaction, the girl does not like licked in the ear.
3. A work friend gave me gifts to give the kids. When I picked them up from my Moms, I took the gifts into them to open. They were all very excited to see gifts. The littles dropped what they were doing and ran over to me at the door. Logan ripped through his in a second flat and then tried to open Charlies too. Logan received a sock monkey game and Charlie a tea set. Logan insisted on opening the game to take the monkey out to have a tea party with him and Charlie.
2. We went to a diner in a near by town for dinner. We were trying to do dinner out and then go see Santa. Well it did not quit work out like we hoped. Both littles were misbehaving and yelling before we even ordered our dinner. Gary asked the waitress for our check for the drinks only. You know, the drinks that we never really drank! I am thinking the days of eating out as a family are ending...
1. Dominic was supposed to have his friend sleep over last night. Well, when he called to get the final details, he was told that his Dad was coming here from Switzerland tonight and that he couldn't come over. How awesome that his friend is getting a last minute visit but Dom was a bit bummed. And then Logan heard that he was not coming over. Logan took it hard. Tears. Whining. All for a child that Logan has never met! ha