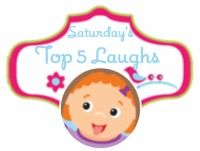 I really cannot believe that today is Saturday already! This week flew by :) The Saturday laughs are some of my favorites to write and read. I am thankful that Melissa started this blog hop. I have *met* lots of great bloggers. Thank you for stopping by again to read about my crazy kidlets!
5. We had friends over for dinner the other night. Logan loves Brianna and so he gave her a kiss on the cheek. She had a funny look on her face and wiped the kiss off. So Logan kissed her again. Brianna wiped it off a second time. (obviously she was not impressed with his smooch...SO....) Logan began singing "I'm sexy nan I know it." to her. All the while doing his special dance for her. Only my 2 year old!
4. Logan took Charlies binki. She gave him a dirty look. Slapped him in the face and took it back out of his mouth.
3. We went to get Charlie a pair of early walker shoes at the mall. My Mom had the boys so it was just us with her to minimize the chaos. Logan loves to watch "rowbee bike" on you tube so Gary decided to ask if they had any Yo Gabba Gabba shoes. They did not but Nordstroms did have the Vans. So we went there and got Logan his first (and only!) pair of character shoes. When Logan opened them, he was so excited. "Oh Yo Gabba Gabba. My shoes. Rowbee. Muno. Mine. Mine" And now he shows EVERYONE his shoes. Seriously. He talked about his shoes all day long at daycare too. Kid is obsessed, ha!
2. Libby was running around like the crazy puppy that she is. Charlie was crawling around on the floor. Libby jumped right over her and ran around the kids in circles. Charlie looked up at her with the dirtiest look. (like how dare she bother me) I am crawling around with a little people in my mouth dog so leave me alone!
1. Logan grabbed my cell phone. "Mama I pway angwee birs" "I text Nana. My sway HI." "My go Nana house and see Bellwah." Apparently he has the attention span of a flea.
I hope you enjoy your weekend. We are off to the Vets, the Eye Drs, 2 birthday parties and grocery shopping. It might be a double coffee weekend in our house!